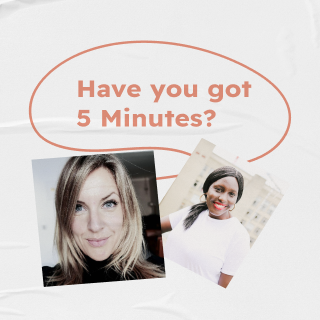 The PR, Comms and marketing podcast answering the things you would normally have asked someone really quickly about at an event or while making a brew in the office. Harriet Small and Rebecca Roberts catch up and tackle a different topic each week they think others in the industry would find useful.
Episodes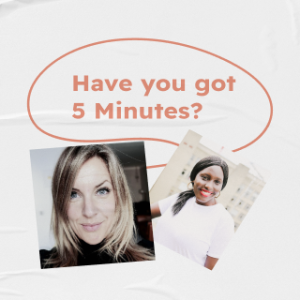 Thursday Oct 14, 2021
Thursday Oct 14, 2021
This extended guest episode was recorded as part of our season 2 finale.
Our guest in this episode is Dr Clea Bourne. Clea, a senior lecturer at Goldsmiths' University Media and Communications Department is one of the leading voices in the academia for the promotional professions of marketing, PR, and advertising. Not only is she an expert in the subjects that she teaches, but she also has in-depth knowledge and understanding of the Financial Markets. She is the author of several publications including her recent book, 'Trust, Power and Public Relations in Financial Markets. 
During our conversation, Clea was incredibly honest about NFTs, cryptocurrency and BlockChain, something we definitely struggle to get our heads around. We dive into  the industry salary gap, how to prepare students for the future, job descriptions and what is missing in financial marketing campaigns. 
Dr Clea Bourne - Goldsmith University https://www.gold.ac.uk/media-communications/staff/bourne/
Bourne, Clea D.. 2020. 'Public Relations and Finance'. In: Ralph Tench and Stephen Waddington, eds. Exploring Public Relations and Management Communication, Fifth Edition. United Kingdom: Pearson,  https://research.gold.ac.uk/id/eprint/29636/
Trust, Power and Public Relations in Financial Markets (Routledge New Directions in PR & Communication https://www.amazon.co.uk/Relations-Financial-Routledge-Directions-Communication/dp/0415719216 
Are too many finance providers conflating trust with technology? https://www.fintechfutures.com/2019/01/are-too-many-finance-providers-conflating-trust-with-technology/ 
AI cheerleaders: Public relations, neoliberalism and artificial intelligence https://journals.sagepub.com/doi/abs/10.1177/2046147X19835250 
Hello Starling Bank https://www.youtube.com/watch?v=aVxrcj2P_KM
Twitter @bourne_clea https://twitter.com/bourne_clea?lang=en 
Season 2 of Have You Got 5 Minutes? Is hosted by Harriet Small and Rebecca Roberts, produced by Dave Musson, Mustard Yellow Media, and brought to in partnership with Nextdoor. 
Nextdoor is the neighbourhood app used by 1 in 7 households in the UK. For more information 
Twitter: @Nextdoor_UK
Website:  https://nextdoor.co.uk/ 
Follow us on Instagram @HYG5MPod 
Find Rebecca: 
Twitter: https://twitter.com/rebecca7roberts
https://twitter.com/threadandfable  
Linkedin: Rebecca Roberts 
Website: https://threadandfable.com/ 
Podcast: The Hear It podcast 
Find Harriet:
Twitter: https://twitter.com/HarrietSmallies  
Linkedin: Harriet Small
Website: https://www.commsoveracoffee.com/