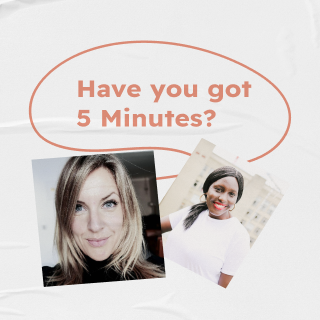 The PR, Comms and marketing podcast answering the things you would normally have asked someone really quickly about at an event or while making a brew in the office. Harriet Small and Rebecca Roberts catch up and tackle a different topic each week they think others in the industry would find useful.
Episodes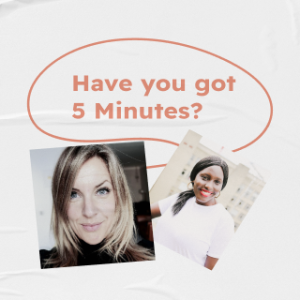 Friday Oct 15, 2021
Friday Oct 15, 2021
This extended guest episode was recorded as part of our season 2 finale.
In this episode, we are joined by two titans of television and entertainment PR who are generally all-around nice guys. Sam Hodges and James MacLeod started their PR career at the BBC together working on shows such as Strictly Come Dancing. They have gone on to have top comms roles at ITV, BBC, Netflix, Channel 4 and Twitter between them. 
During our conversation, we talked about what it is really like being at the top, moving a headquarters outside London, making the decision to switch industries from TV to tech, failure, reality TV, Ofcom and the most important question of all, how do shows get picked for Gogglebox. 
At the time of recording the podcast, James MacLeod had stepped down as Communications Director at Channel 4, and remained as an advisor on the government's new consultation relating to the broadcaster's future ownership and its review of public service broadcasting. James started his career at the BBC as a publicist and then later joined ITV, leaving there as Head of Press, Broadcasting. 
Sam Hodges is a director at Aaqua. He has been the  Head of Communications at the BBC , and Twitter, the Director of Content Comms at Netflix and a partner at the agency Freuds.
Studio Lambert https://www.studiolambert.com/shows.html 
Pregnancy Loss Policy https://www.channel4.com/corporate/pregnancy-loss-policy
Menopause Policy https://www.channel4.com/corporate/menopause-policy 
Future4 https://www.channel4.com/corporate/future4 
BBC's Alex Scott 'proud' of working class accent after peer's elocution jibe
This article is more than 2 months old: Lord Digby Jones accuses Alex Scott of spoiling Olympics coverage by dropping her 'g's https://www.theguardian.com/inequality/2021/jul/31/bbc-alex-scott-proud-working-class-accent-digby-jones-elocution 
@jamesmacleod https://twitter.com/jamesmacleod?lang=en 
Linkedin: https://uk.linkedin.com/in/jamesmacleodcomms 
@SamHodges https://twitter.com/SamHodges 
Linkedin:  https://uk.linkedin.com/in/samhodgescomms 
Season 2 of Have You Got 5 Minutes? Is hosted by Harriet Small and Rebecca Roberts, produced by Dave Musson, Mustard Yellow Media, and brought to in partnership with Nextdoor. 
Nextdoor is the neighbourhood app used by 1 in 7 households in the UK. For more information 
Nextdoor 
Twitter: @Nextdoor_UK
Website:  https://nextdoor.co.uk/ 
Follow us on Instagram @HYG5MPod 
Find Rebecca: 
Twitter: https://twitter.com/rebecca7roberts
https://twitter.com/threadandfable  
Linkedin: Rebecca Roberts 
Website: https://threadandfable.com/ 
Podcast: The Hear It podcast 
Find Harriet:
Twitter: https://twitter.com/HarrietSmallies  
Linkedin: Harriet Small
Website: https://www.commsoveracoffee.com/