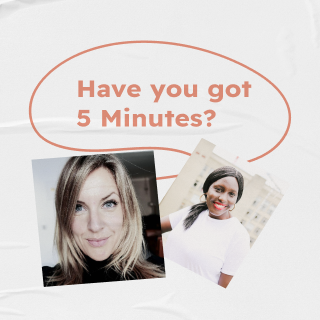 The PR, Comms and marketing podcast answering the things you would normally have asked someone really quickly about at an event or while making a brew in the office. Harriet Small and Rebecca Roberts catch up and tackle a different topic each week they think others in the industry would find useful.
Episodes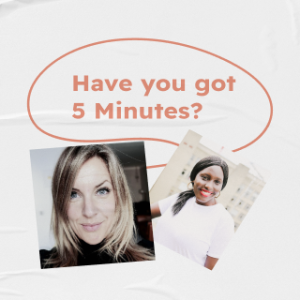 Thursday Sep 23, 2021
Thursday Sep 23, 2021
In this episode, we open by peeping behind the curtain of the 'glamorous' industries PR, Communications and marketing professions hold in high esteem. Because it isn't all parties and fancy shoots.    
For our  50th episode of the show, we welcome Brenda  J, the Head of Publicity at MYBLAQBOOK, an exclusive Black-owned Music PR agency crossing worlds between online, print & everything in between. Brenda shares how she is working with her artist, the media avenues we should be thinking about leveraging and how the music is bouncing back after the pandemic. 
Brenda catches us up on her women empowerment platform, Girls In Power. Over the last 2+ years, Girls In Power has worked in partnership with brands including Kobalt/AWAL Music, BMI, E & J Brandy, Vapiano and has also been supported by the likes of Barclays Bank, Red Bull Music, Hennessy UK and YouTube Music.
Find Brenda 
Linkedin https://www.linkedin.com/in/brenda-juliet-nabanja-a3b9548b/?originalSubdomain=uk 
Myblaqbook Instagram https://www.instagram.com/MYBLAQBOOK/  
My Blaqbook https://www.myblaqbook.com/ 
Season 2 of Have You Got 5 Minutes? Is hosted by Harriet Small and Rebecca Roberts, produced by Dave Musson, Mustard Yellow Media, and brought to in partnership with Nextdoor. Nextdoor is the neighbourhood app used by 1 in 7 households in the UK. For more information 
Nextdoor 
Twitter: @Nextdoor_UK
Website:  https://nextdoor.co.uk/ 
Follow us on Instagram @HYG5MPod 
Find Rebecca: 
Twitter: https://twitter.com/rebecca7roberts
https://twitter.com/threadandfable  
Linkedin: Rebecca Roberts 
Website: https://threadandfable.com/ 
Podcast: The Hear It podcast 
Find Harriet:
Twitter: https://twitter.com/HarrietSmallies