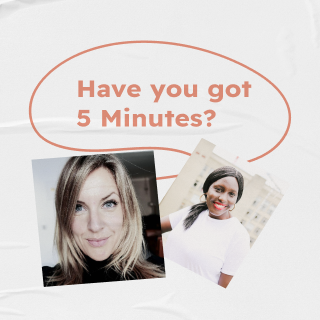 The PR, Comms and marketing podcast answering the things you would normally have asked someone really quickly about at an event or while making a brew in the office. Harriet Small and Rebecca Roberts catch up and tackle a different topic each week they think others in the industry would find useful.
Episodes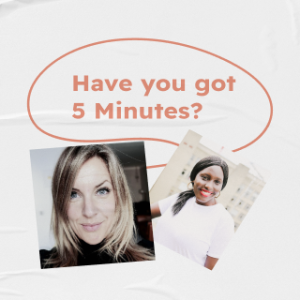 Thursday Sep 09, 2021
Thursday Sep 09, 2021
In this episode, we thought we would talk about leadership visibility after being inspired by the video of Charlie Nunn, the new Group Chief Executive of Lloyds Banking Group, introducing himself was posted. 
We're honoured to welcome leadership advisor and coach Charles Day. Charles's clients include Spotify, Hearst Publications, Wieden + Kennedy, the BBC and Tommy Hilfiger. We talk to him about how we lead when none of us has been here before, having uncomfortable conversations and burnout. This is the conversation every leader or some aspiring to leadership in the creative industries needs to listen to.
Introducing Charlie Nunn, the new Group Chief Executive of Lloyds Banking Group https://www.linkedin.com/feed/update/urn:li:activity:6832991604291203072/ 
Mindy Grossman  @mindygrossman  https://twitter.com/mindygrossman?ref_src=twsrc%5Egoogle%7Ctwcamp%5Eserp%7Ctwgr%5Eauthor  
Susan Credle @susancredle https://twitter.com/susancredle 
FCB Is Adweek's Global Agency of the Year https://www.adweek.com/agencies/fcb-is-adweeks-global-agency-of-the-year/ 
113: "The Listening Leader" - Carter Murray  global CEO of FCB on Fearless  https://www.thelookinglass.com/fearless-episodes/113-the-listening-leader-carter-murray 
Wieden+Kennedy @WKLondon https://twitter.com/WKLondon 
Wieden+Kennedy @WiedenKennedy https://twitter.com/WiedenKennedy 
Chelsea Pictures, the production company behind it with director Nisha Ganatra, won the Palme d'Or, presented to the best production company of the festival. http://chelsea.com/ 
Chelsea Pictures Instragtram https://www.instagram.com/chelseanyla/ 
Lisa Mehling @lisamehlin https://twitter.com/lisamehling 
The 4 Weapons Of Exceptional Creative Leaders by Charles Day https://www.fastcompany.com/1683223/the-4-weapons-of-exceptional-creative-leaders 
72 and Sunny https://www.72andsunny.com/ 
72andSunny @72andSunny https://twitter.com/72andSunny 
72andsunny_ https://www.instagram.com/72andsunny_/ 
Leading In The Time Of Virus https://www.thelookinglass.com/fearless-episodes/2-17-ian-davis 
Charles Day 
The Looking Glass https://www.thelookinglass.com/ 
@charlesday https://twitter.com/charlesday 
Season 2 of Have You Got 5 Minutes? Is hosted by Harriet Small and Rebecca Roberts, produced by Dave Musson, Mustard Yellow Media, and brought to in partnership with Nextdoor. Nextdoor is the neighbourhood app used by 1 in 7 households in the UK. For more information 
Twitter: @Nextdoor_UK  Website:  https://nextdoor.co.uk/ 
Follow us on Instagram @HYG5MPod 
Find Rebecca: 
Twitter: https://twitter.com/rebecca7roberts
https://twitter.com/threadandfable  
Linkedin: Rebecca Roberts 
Website: https://threadandfable.com/ 
Podcast: The Hear It podcast 
Find Harriet:
Twitter: https://twitter.com/HarrietSmallies  
Linkedin: Harriet Small
Website: https://www.commsoveracoffee.com/