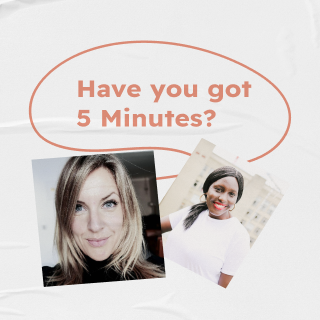 The PR, Comms and marketing podcast answering the things you would normally have asked someone really quickly about at an event or while making a brew in the office. Harriet Small and Rebecca Roberts catch up and tackle a different topic each week they think others in the industry would find useful.
Episodes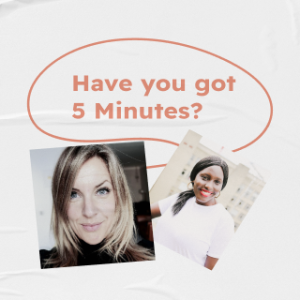 Thursday Oct 07, 2021
Thursday Oct 07, 2021
In this episode, we kick off by talking about why sometimes it's better to document rather than think of a new idea from scratch. Anyone who has heard, watched or read anything by marketer Gary Vaynerchuk, will know that content is all around us and telling compelling stories doesn't have to be complex. 
Our guest this week, is probably best known for his career as a sports broadcaster, Alex Payne although on most weeks can be found co-hosting the top Rugby Podcast, The Good, The Bad & The Rugby with James Haskell and Mike Tindall, in 2017 he founded The Room. In this episode he talks about how the idea of The Room came about - many of the best ideas have a link to Twitter it seems, and what it means to start a tech business in the marketing industry. 
How to create 64 Pieces of Content in a Day - Gary Vee  https://www.garyvaynerchuk.com/how-to-create-64-pieces-of-content-in-a-day/ 
Jessica Alba - Founder of The Honest Company  https://www.youtube.com/channel/UCxBoeUj2PtzcOx_C2ayEEPg
Our Day https://www.local.gov.uk/our-day 
The Lions Tour 2021 https://www.lionstour.com/2021/fixtures/ 
The Good The Bad & The Rugby https://goodbadrugby.com/  
Find Alex 
Twitter https://twitter.com/alexpaynetv?lang=en 
Linkedin https://www.linkedin.com/in/arapayne/?originalSubdomain=uk 
The Room https://www.theroom.io/ 
Twitter https://twitter.com/theroomunlocked 
Season 2 of Have You Got 5 Minutes? Is hosted by Harriet Small and Rebecca Roberts, produced by Dave Musson, Mustard Yellow Media, and brought to in partnership with Nextdoor. 
Nextdoor is the neighbourhood app used by 1 in 7 households in the UK. For more information 
Nextdoor 
Twitter: @Nextdoor_UK
Website:  https://nextdoor.co.uk/ 
Follow us on Instagram @HYG5MPod 
Find Rebecca: 
Twitter: https://twitter.com/rebecca7roberts
https://twitter.com/threadandfable  
Linkedin: Rebecca Roberts 
Website: https://threadandfable.com/ 
Podcast: The Hear It podcast 
Find Harriet:
Twitter: https://twitter.com/HarrietSmallies  
Linkedin: Harriet Small
Website: https://www.commsoveracoffee.com/