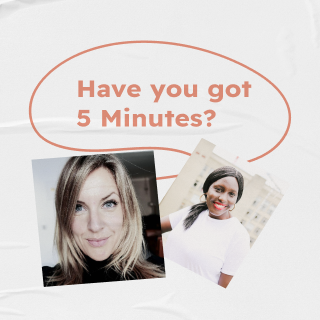 The PR, Comms and marketing podcast answering the things you would normally have asked someone really quickly about at an event or while making a brew in the office. Harriet Small and Rebecca Roberts catch up and tackle a different topic each week they think others in the industry would find useful.
Episodes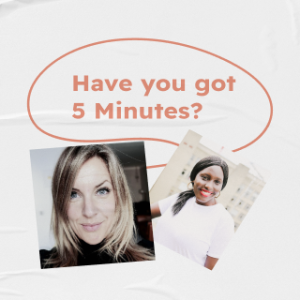 Tuesday Sep 21, 2021
Tuesday Sep 21, 2021
In this episode, we reflect on Channel 4's Black to Front. On September 10th, Channel 4 broadcast programming featuring Black presenters, actors, writers and experts, contributors, and programme-makers. It was done as part of the broadcaster's commitment to represent and champion under-represented audiences and communities. 
For our 5 minutes, we discuss the landmark case of Alice Thompson, an estate agent who won £185,000 at an employment tribunal. The sex discrimination case was heard after her employer refused to accommodate her need to work shorter hours to pick up her daughter from nursery. We talk flexible working for parents. 
Exhibition: James Barnor: Accra/London - A Retrospective https://www.serpentinegalleries.org/whats-on/james-barnor/ 
Black and Proud: A celebration of Black lives and Black culture https://www.channel4.com/collection/black-and-proud
As Tensions Between Colleagues Reaches Breaking Point, Here's How To Avoid Being The Working Parent That Everyone Hates https://graziadaily.co.uk/life/in-the-news/working-parent-advice-coronavirus/ 
Leading the way on inclusion through equal parental leave https://www.diageo.com/en/society-2030/case-studies/leading-the-way-on-inclusion-through-equal-parental-leave/ 
Alice Thompson won her discrimination case against her employer https://www.bbc.co.uk/news/business-58473802 
Season 2 of Have You Got 5 Minutes? Is hosted by Harriet Small and Rebecca Roberts, produced by Dave Musson, Mustard Yellow Media, and brought to in partnership with Nextdoor.  Nextdoor is the neighbourhood app used by 1 in 7 households in the UK. For more information Twitter: @Nextdoor_UK
Website:  https://nextdoor.co.uk/ 
Follow us on Instagram @HYG5MPod 
Find Rebecca: 
Twitter: https://twitter.com/rebecca7roberts
https://twitter.com/threadandfable  
Linkedin: Rebecca Roberts 
Website: https://threadandfable.com/
Podcast: The Hear It podcast 
Find Harriet:
Twitter: https://twitter.com/HarrietSmallies  
Linkedin: Harriet Small
Website: https://www.commsoveracoffee.com/